Private school initiatives 'with' COVID, Private school in year 2 of the coronavirus pandemic...
Double Helix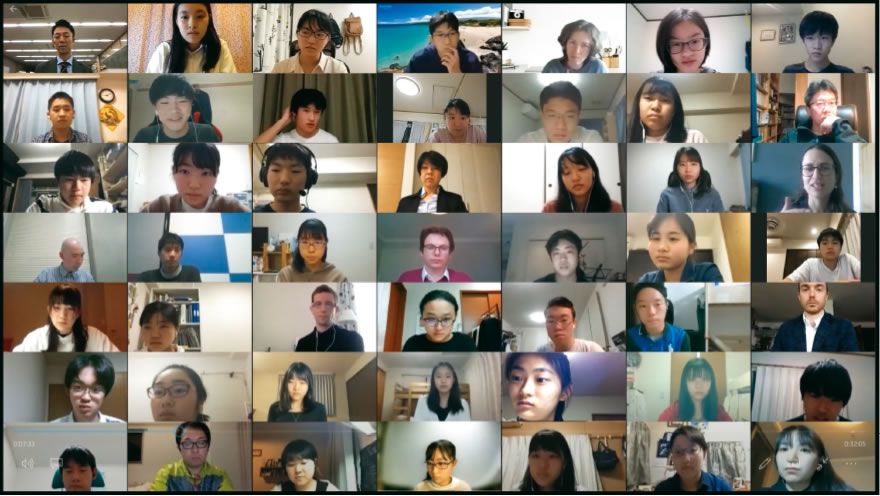 Eight schools collaborate in a world-leading online program
Note: This is an English translation of an article from Shingakutsushin magazine.
A place for all motivated students to learn
Double Helix (DH) is the name of a programme held online in the spring of 2021—a programme that saw remarkable levels of engagement from participating high school students.
The driving force behind DH was Sugamo Gakuen, a school that has been implementing innovative forms of overseas education for the last few years. Hidemasa Okada, the school's Head of Overseas Education, had the following to say:
"The programme transcended the Sugamo framework, with students participating in DH from other schools: Ichikawa, Ohyu Gakuen Girls', Komaba Tōhō, Senzoku Gakuen, Toshimagaoka Joshigakuen, Nanzan Girls', and Hiroo Gakuen. The classes were taught by British tutors working at the forefront of a range of fields from education and art to medicine.
"A shared desire among faculty to provide highly motivated students, those who really want to learn, with an opportunity for meaningful, world-class education is what lay behind the development of this course. Teachers from eight schools worked hand-in-hand, with the support of the British tutors, to create a world-leading programme."(Hidemasa Okada)
Double Helix classes at a glance;
Double Helix offers five classes,
and the premium programme is conducted entirely in English by British tutors.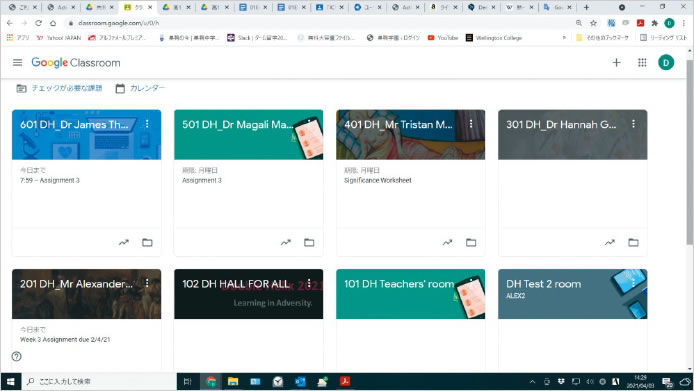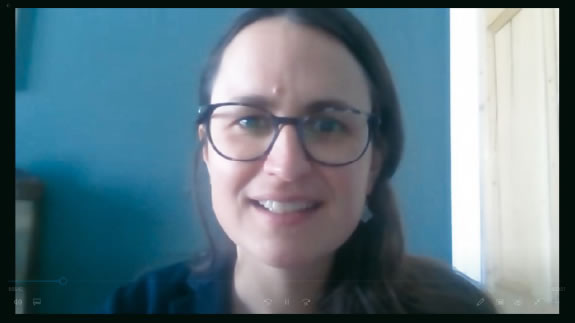 Dr. Hannah Grayson
Class: Narratives in CrisisLearning how language leads to the formation of intention, and how to communicate better, through an analysis of the language used in times of crisis.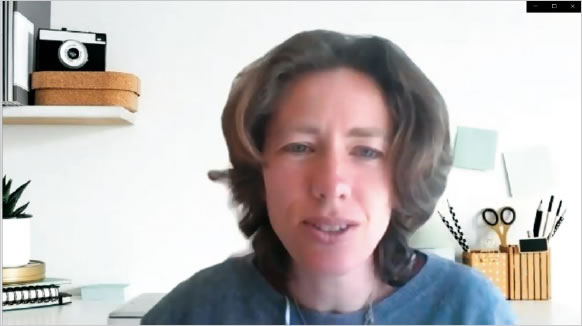 Dr. Magali Matsumiya
Class: Infection and ImmunityA class on infection and immunity. Students learn about how the human body responds when afflicted by disease (adversity).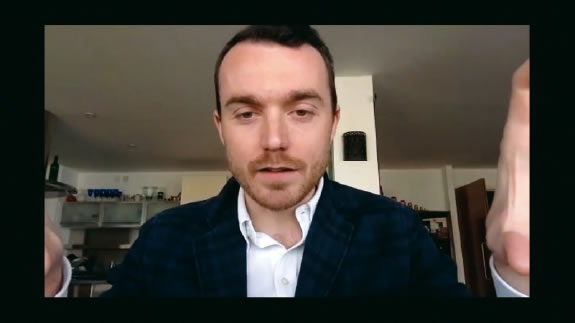 Mr. Alex Estorick
Class: The Image in AdversityLearning how to analyse the world through interpretation of images created in times of adversity.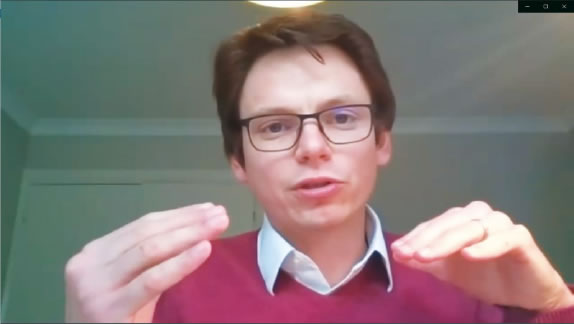 Mr. Tristan Macleod
Class: History of MedicineThe history of how different peoples have responded to pandemics, focusing on the history of infectious diseases and vaccine development.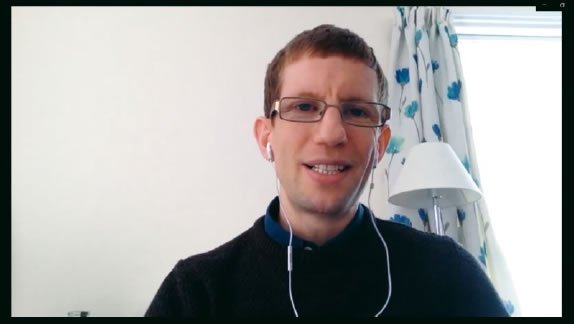 Dr. James Thomas
Class: Healthcare SystemsHow have the world's healthcare systems responded to the pandemic (adversity), and how should they respond in future?
The advantage of building a diverse programme from scratch
DH did not appear out of nowhere—Sugamo has a range of tailored overseas education programmes. "DH came into being as a replacement, during the coronavirus pandemic, for TSS (Tokyo Spring School), a new programme that was scheduled for launch in the spring of 2020.
"TSS is a new intensive course we had developed at Sugamo, planning for it to act as an extension of the SSS (Sugamo Summer School) programme that we started in 2017. SSS was itself organised with the objective of providing a larger group of students with the kind of learning opportunities available on the Eton College Summer School—our most popular overseas programme, run by Eton College in the UK.
"SSS is held at Sugamo Gakuen's Tateshina campus in Nagano Prefecture over a period of five nights and six days in the summer and open to students from our Y9 to Y11 year groups. We invite British tutors, world-class in their respective fields, to offer a similar experience to the summer school at the Eton College, which is one of the world's most prestigious schools, but in Japan where the burden of costs and barriers to participation are lower.
"The number of applicants has increased year by year since the course started in 2017, and the programme has become so popular that we've had to implement a lottery system. We've felt a tremendous response to our efforts on SSS, with the course not only contributing to the development of participating students but also providing a positive stimulus to the students around them more widely.
"With TSS, the plan was to level up by taking advantage of the experience from SSS as well as the personal network of the faculty. We opened participation up to other private schools, rather than just Sugamo, and the programme was scheduled to take place in Tokyo over six days in the spring vacation, but the coronavirus crisis meant we had to cancel it."(Hidemasa Okada)
The coronavirus crisis as the springboard for a new form of overseas education
DH is a new programme that came into being out of the predicament of the coronavirus crisis. While all out-of-school programmes were cancelled due to COVID-19, Mr. Okada said he was "constantly thinking about how we could create a similar experience to those programmes."
TSS involved the invitation of elite graduates of the world's most prestigious universities, to put together the kind of premium educational content that would normally only be available for those enrolled at prestigious British schools. The participation of highly motivated students from schools all over Japan, each with its own distinctive spirit, was also to be a key feature. Thinking about how to realise such a programme online is what led to the creation of DH.
"Instead of simply making an online version of TSS, I thought: let's make a course that will shine precisely because of fact it's being delivered online. With that in mind, we had countless conversations with teachers from the other schools and with the people overseas that had worked with us on SSS and TSS.
"As a result, we were able to go on to create a ground-breaking programme that goes even further than its antecedents, taking real advantage of the positives that are only available because it is implemented online. The name 'Double Helix' comes out of that concept."(Hidemasa Okada)
The Double Helix of 'knowledge' and 'higher-order thinking'
"One of the objectives of DH is to bring together students with diverse ideas and give them opportunities for discussion, using their own words. The lessons are held in English, so English proficiency is essential—but no matter how good your English might be, that's not enough for discussion in itself. Meaningful discussion cannot take place without 'higher -order thinking' like problem-solving and critical thinking. And it has become clear that higher- order thinking spirals upward together with the breadth and depth of one's knowledge, much like a double helix.
Elevating higher-order thinking requires a process that also imparts a quantity of quality information to students. This is difficult on a residential programme that only lasts a few days, but made possible by the longer duration of an online programme.
"The DH programme was organised over a period of around one month during the spring vacation. Debates, discussions, presentations, and assignments providing opportunities to stimulate higher-order thinking, and the classes are held in such a way as to encourage deeper learning. There are also plenty of merits stemming from the fact that the course is held online. The classes were all streamed, and could be rewatched whenever needed.
This meant that everyone was able to tackle the course at their own pace, and review lessons according to their own level of understanding. The participation fee was also considerably lower than for a residential programme, and restrictions associated with distance were also removed, which made it easier for all students to participate."
In fact, programme participants included students not only from schools in the Tokyo metropolitan area but also Nanzan Girls' in Aichi Prefecture. Sugamo is strengthening ties with schools internationally as well as domestically: in 2021, it became the first Japanese school to join the World Leading Schools Association (WLSA), an international organisation comprising prestigious schools from around the globe. The WLSA's Chief Strategy Officer, Mr. Jenkinson, also contributed to the development of the DH programme. Fifty students from all over Japan participated in the first DH online programme, motivated to learn and unwilling to surrender to COVID-19. It is hoped that the next few years will see participation from students all over the world.
Special Sessions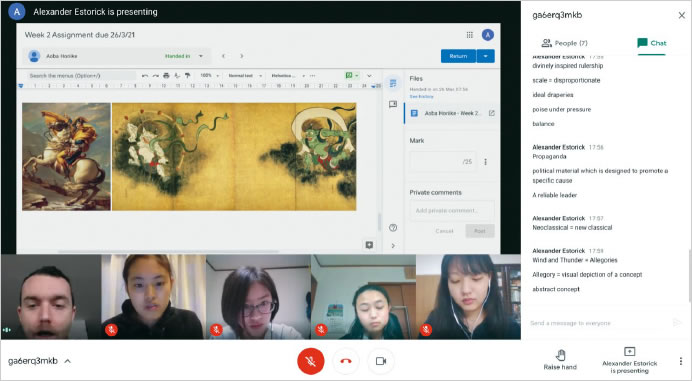 Drop in SessionsQ&A sessions held by each instructor for about an hour each week. With each instructor an expert in their respective field, they are able to answer student questions in a way that is extraordinarily detailed yet easy to understand.

Reflection SessionsA total of six sessions, instituted at the suggestion of former Eton College teacher and current WLSA Chief Strategy Officer Charlie Jenkinson, the main objective of which is "to bring an awareness of the relationship between knowledge and higher-order thinking." Through dialogue, Mr. Okada helps to deepen the connection between the knowledge and values that the students already had with the knowledge gained in the classes, making sure that each student is taking joy in forming their own understanding of a given issue.
Making human connections and maintaining the motivation to keep learning
Online communication is qualitatively different to face -to-face interactions, and it can be harder to develop deeper relationships. Therefore, Mr. Okada held individual meetings with each of the 50 students to make sure that they were able to participate independently until the end of the course without becoming discouraged.
"There are classes Monday to Friday, and it's tough to stay focused and listen to all the English properly and understand everything that's being said. On top of that, students were also given hefty coursework. At first, most of the students were at a bit of a loss, anxious because they couldn't finish their assignments even if they spend a whole day on them, they couldn't follow the classes in English, and they couldn't express themselves properly in English. I tried to support each student, and ease their anxieties with the following messages: just making your best effort in this program is fantastic; I want you to keep trying, no matter how many times you fail; I hope you feel a tremendous sense of accomplishment, and joy at your development." (Hidemasa Okada)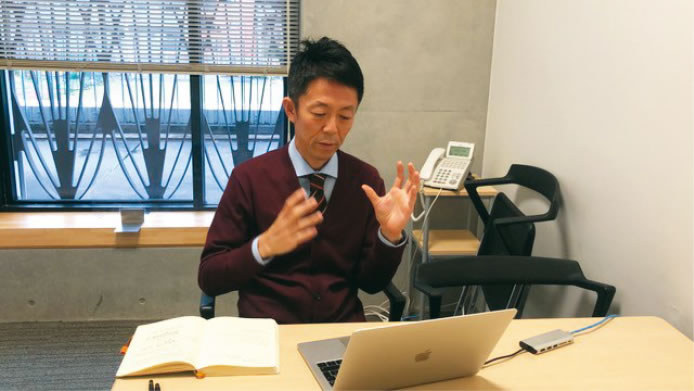 Hidemasa Okada, Head of Overseas Education at Sugamo Gakuen.
Let's hear from the participants!
It made me happy when I'd proactively speak out, and the teacher would take my opinion on board. On the other hand, the teachers are native English speakers, so saying something without solid content won't cut it. I realised that I can't be satisfied to just be "using" English. I found the prospect of working on assignments myself from the ground up very energising. It was the most fun I've had in my studies up to that point. Working on answering the questions sparked my intellectual curiosity, and time raced by when I was researching and exploring various areas. Working in pairs let me learn new perspectives that I couldn't have discovered by myself.
I used to hold back in the fields of art and languages, because I had the impression that taste is what made all the difference, but using a framework of theoretical analysis where different cultural backgrounds aren't problematic meant that I was able to engage in a positive way. I found the analytical methodology really interesting, and it's made me revisit my thinking about university courses. I could feel my personal growth through this programme. The difficult parts were actually the most fun. I'm really glad that I participated. I think that the DH coursework deepened my knowledge and thinking abilities.